Over the Festive Season…
…and what a wonderful time it was – fun packed entertainment with cracking food and the odd Twinkle Christmas Cocktail !
Firstly, Merry Christmas and a Happy New Year to all our Customers and, a special thanks to all who attended our Festive events
Tuesday 19th – a packed Quiz was Sandy and Terry's last one of 2017 with prizes galore, £100 to the Winners of the Quiz and £100 guaranteed payout on Play Your Cards Right. Surprisingly it took four attempts for the PYCR to be won. You naughty girl Sandy !
 Thursday 21st – thank you Father Andrew ans his team for including us in the Carol singing, which was well attended even though the weather was not ideal for hanging around street corners !
Saturday 23rd – Chris Baker was singing at the Bolton – and what a performance by the Wee Man ! He was absolutely brilliant
Monday 25th – packed to the gunnels as expected with a cracker of a menu, fine wine and many beers. The only complaint received was that we closed at 6 o'clock !
Tuesday 26th – with Terry and Sandy on holiday, Duncan hosted the Quiz with £121 being raised for charity on the evening. This was mainly due to John Gurr anhis Australian relatives completing a clean sweep of the Quiz and PYCR, which they immediately donated
Sunday 31st – Hogmanay, whoopeee ! We held a Black  Tie event with a four course meal and superb entertainment by Adrian Gill. The man just gets better and better every time he appears at the Bolton Arms. Finishing off in the wee small hours the Staff were all appreciative of the pub being closed on the 1st
Tuesday 2nd – everything was back to normal with Terry and Sandy returning to host the Quiz, which was packed with 17 Teams
We would like to thank all our Customers for their support during 2017 and, look forward to welcoming you back in 2018
Isle of Wight & Hampshire Air Rescue Service
Through our Tuesday night Quiz we have just raised and presented a cheque to the above Charity for £ 1,500.00 – yes, £ 1,500 !
The cheque was collected by local Ryland Lee, who appeared taken aback at the fact that a wee country pub could raise such an amount of money over 13 x weeks from £1 Quiz Entry Fees
Since 2008 our Customers, Suppliers and Staff have helped us raise over £ 250,000 for LOCAL Good Causes and Charities
A massive THANK YOU to everybody who has been involved- BUT BE WARNED, we're now looking towards the £ 500,000 objective !
Bolton Arms arrives in Sri Lanka…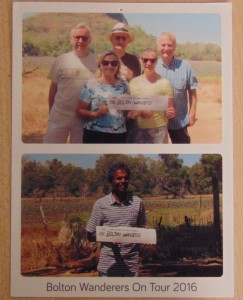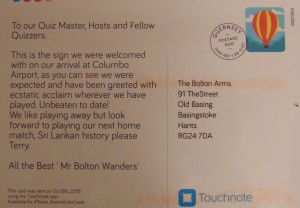 The Bolton Arms is reaching new Markets every day owing to people such as The Bolton Wanderers !
I, personally, do not believe we will benefit from an immediate influx of Sri Lankans – but, if we do, i'll update you on our next post !!!
It started with an email and turned into £11,527 + an extension ?…
…and the wee one has now undergone her surgery, which we wait to hear the outcome of from her parents
The £11,527 raised by our regulars on Emmy's Evening at the Bolton Arms was outstanding, which was topped off with the offer by local tradesmen on the night pledging to build her much needed Treatment Room at home, We await the final outcome !
Jayne Perkins – local artist
Jayne is a local artist who specialises in Watercolours and Pastels and, is well known for her TV and radio appearances. She also holds local classes for aspiring artists
Following the refurbishment of our restaurant, Roschilds, we were delighted to accept an offer from Jayne to display her work, which has been very well accepted and attracts a lot of interest. If you wish to view them on your next visit please ask one of our Staff for access to Roschild's, thnak you
All of Jayne's works are for sale and, if you wish to contact for a private commission please feel free to do so on 0776 760 6604, thank you