Christmas Day 2017
Prior to the launch of our Christmas Day Menu we are Fully Booked, which is brilliant news for us, but maybe not so for all our Customers
We do know, however (based upon experience), that we will receive between 6 and 8 cancellations between April to November owing to relocation, or, for whatever reason. Therefore, if you wish to have your details included in our Reserve List for Christmas Day, please contact nicole@thebolton.com
Thank you, Duncan and Mikki
Wine Tasting Event – 30th March
WOW – What a night!!!
Thank you to everyone who attended our Wine Tasting Event on Thursday 30th March and for making it one to remember.
We are to pleased to say, that with all of your help, we have now chosen our new Wines and will be releasing the new Wine List on Monday.
Finally, a massive thank you to Chris and James from Matthew Clark for hosting the event – we couldn't of done it without you!
Enjoy the photos and check out our "Events" page for future Wine Tasting Evenings
Barclays QUIZ CURRY Evening – 28th February
Organised by our very own Nicole Standivan the evening was both brilliant and challenging !
The evening raised a total of £1,400 for Wild Hearts, a local charity that supports struggling businesses throughout the Third World. The evening was based around a Curry Evening, which was quite apt as the Quiz started, the temperature started to increase – as everyone's brains started working overtime !
A range of superb items had been raised for the Raffle and, of course, Caroline ransacked customers pockets and wallets for any donations
Thank you to Barclays for all the very kind and positive emails received today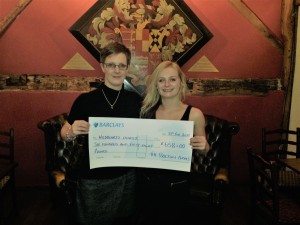 Herve and Emily do it again…
For the 9th year in a row our Head Chef and Sous Chef have managed to achieve the highest possible Food Standards Agency Rating in terms of Food Preparation Areas, Food Preparation Procedures, Storage of Food Products, Temperature of Storage Areas, Cleanliness of Kitchen, Method of Food Delivery…I could go on for 10 minutes,
Basically, they could not have achieved a better result to demonstrate their dedicated and professional approach in ensuring our Customers receive the highest quality tasty food and, which is served in the safest possible manner
So, "Big Congratulations !" to Herve and Emily (and the entire Kitchen Staff) for a superb job well done !
 Nicole Standivan…
Mikki and I take great pleasure in announcing our new Business Manager, Nicole Standivan
She joined us at the age of 15 and, has worked tirelessly in ensuring that everything we demand for our Customers is met to the highest possible Standard
As of the 5th of February Nicole takes over from Stuart who has left to resume his acting career to which we wish him the Best of Luck) and, she looks forward to welcoming you to the Bolton Arms in the not too distant future
Adrian Gill never ceases to amaze…
Adrian's appearance on the 4th of February made the night, He is absolutely an outstanding, vibrant Showman. Excellent !!! Thank you
The evening was a Surprise Event to thank Stuart (our Bar Manager) for his positive and constructive employment period with us over the last two and a half years – but we always knew his main desdemand ire lay in the Stardom of Screen and Stage
Unknown to most of our Customers, Stuart has a Degree in Acting and he felt the time was right to resume his career – and why shouldn't he ?
A Pub is a transient Household for people's Wants and Desires (both Customers and Staff) – something that Miikki and I have always recognised – especially where the young are concerned. We feel honoured to have had the opportunity of working with (mostly) younger people and to encourage them to follow and achieve their dreams – even though, that may not be beneficial to the future of the Bolton Arms, but that's life
Stuart, we wish you all the best – be the next 007 !
Burns Night
SENSATIONAL !
Apart from the packed house, the outstanding Piper, The Address to the The Haggis and Toast to The Lasses, the quality food, perfectly timed Service, Jan Edney stole the night with her Address to The Laddies – outstanding. Apart from being a quiet, shy and retiring type of person (if only) it was her first public speaking engagement and, what a job she did !
Her speech was not only relevant and attuned the Pub, it was funny in it's own right – the only part of her performance under query was her weird Scottish accent that fell somewhere between Pakistani and Welsh – Ooooh No !
Our apologies to the Pakistani and Welsh Community – but her speech was so funny – brilliant !
As over the last seven years, Jamie Wright undertook the Honour of the Selkirk Grace and Toast to The Lasses and performed memorably on the evening, We can't thank him enough for supporting us so avidly during that period, Thanks, Portion
What more can I say, the Wee Small Hours approached, wee sipped swallies and then,,,who cares !!!
Cracking Burns Night
Bolton Arms arrives in Sri Lanka…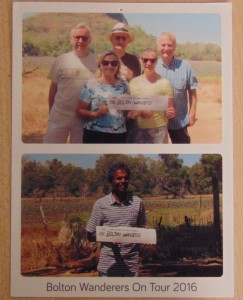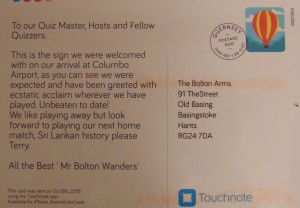 The Bolton Arms is reaching new Markets every day owing to people such as The Bolton Wanderers !
I, personally, do not believe we will benefit from an immediate influx of Sri Lankans – but, if we do, i'll update you on our next post !!!
It started with an email and turned into £11,527 + an extension ?…
…and the wee one has now undergone her surgery, which we wait to hear the outcome of from her parents
The £11,527 raised by our regulars on Emmy's Evening at the Bolton Arms was outstanding, which was topped off with the offer by local tradesmen on the night pledging to build her much needed Treatment Room at home, We await the final outcome !
Jayne Perkins – local artist
Jayne is a local artist who specialises in Watercolours and Pastels and, is well known for her TV and radio appearances. She also holds local classes for aspiring artists
Following the refurbishment of our restaurant, Roschilds, we were delighted to accept an offer from Jayne to display her work, which has been very well accepted and attracts a lot of interest. If you wish to view them on your next visit please ask one of our Staff for access to Roschild's, thnak you
All of Jayne's works are for sale and, if you wish to contact for a private commission please feel free to do so on 0776 760 6604, thank you